You heard it. Smart Companies can shave off 75-95% of your time and money – but that's just the start.
In 2018, the world spent an average of over US$4000/year per capita on incorporation and startup procedures alone, excluding all other business transactions. Figures vary from being able to start a home-based micro-business at US$3000 to fees breakdown of US$7500/year just to operate in the US. 
To add to the pile, we're also kindly reminded of the 90% of startups that fail during their first years of existence with "running out of cash" topping the list of reasons why.
Still not buying?  
Just take a look at the industry of corporate governance waddling around US$1 Trillion strong today. There's a reason for all these services out there.
Swimming against this current can be fun and all, depending how masochistic your outlook on life is, but we are just here to say there is another way. 
Costs like this should NOT have to break your bank. And the amount of bureaucracy should NOT kill your buzz and vibe. Things like incorporation, cap table management, equity transfers and board resolution can and should be handled in much, much easier ways today. The technology is there. And we're running out of excuses not to. 
"The first step is to establish that something is possible.

Then probability will occur."



– Elon Musk 
The solution we're offering is called the Smart Company. Blockchain-powered digital platform with built-in compliance to help you on company governance. No paperwork, no middlemen and no extra hassle admin work.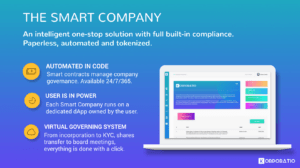 But we didn't build this over-night either. Take it from us when we say we had to gather a good amount of research, a decade worth of relevant business experiences, legal and regulatory issues, corporate law and technological inventions to come up with what we have in our hands today. 
Virtually, we had zero probability starting in. But yes, scratching our own itch was that strong. And today, Smart Companies are available in 4 jurisdictions with a dozen more down the line for tomorrow. 
Cool. So what? 
That's all nice, but how's that making your life any easier? 
Let's dive into the world of company formation. When you set up a new business, you will typically be required to complete forms, provide information and of course, pay. Money always matters – and so we start browsing the web in the search for the perfect price-value of incorporation agents. Perhaps you'll ask yourself 'What's the difference between all of these? They all look the same?' 
Well, the difference is in the entire package. If the offer looks too good to be true, it probably is.
Many agents will cut down costs to make the offer the cheapest option on the market, which is great, if it'd actually include the real costs of setting up your business. But more often than not, the marketed price is nothing but the incorporation itself, excluding the entire year of services your company will be obliged to fulfill by law. 
For instance, you may well be able to set up your business at US$500 or less. All is good until four months down the road you're charged another US$300 for signing a document that is required by the jurisdiction, then another $200 for another document with a physical visit to the office, and so on. You get the point. 
You could even think of it as the way a budget airline would price their flight ticket – we all know the more conventional airlines that market a price including the entire package, and those that charge $10 for the flight but you'll still end up paying $399 due to mandatory taxes, check-in baggage and that inflight-meal. So this is to say, do your homework, ask questions and make sure to choose the best for the job. 
Smart Companies run on code
Smart Companies operate differently. The entire structure is managed by code, not by people. Every single action, transfer and transaction you need to make today or in the future is automated, and therefore, free. 
Certainly, every founder is different with their business needs. If you're not planning to make actions in your corporate governance, such as finding multiple rounds of investors, adding business partners etc., a simple structure is probably the best option for you. On the contrary, if you're setting up a multi-million dollar entity with dozens of shareholders and lawyers, you'll probably need more seasoned expertise to build your business entity. 
One of our favorite things about the Smart Company model is its versatility. We've found it to be equally suitable for a single-person incorporation with agile business models as well as multi-stakeholder legal structures. But don't take it from us – make sure to do your own research. 
What about time? 
Hate to be vague, but this really depends on your situation. We know founders who aren't involved in the day-to-day operations of company governance at all. They simply hire someone for it. But we also know those who'd save those extra bucks and instead invest them in a PPC campaign for their new business. This is to say, in regards of resources, we all have different priorities.
While saving money may not top your list in priorities, time probably will.
For entrepreneurs, I'd dare to argue that time is the most scarce resource, priceless in value. Would you rather spend 2-3 weeks a year on signing documents, traveling to your agent's office and coordinating with all required parties for board resolution – or would you rather use that time in developing your business, closing more leads and increasing your ARR? 
In many ways, the world of corporate governance is still very backwards. Many agent offices won't accept e-signatures or any digital format of documents, which means you need to print, sign and send ink-paperwork to them via traditional mail.
Similarly, it is not uncommon at all to require company board meetings to be held at the agent's office at least once a year. Some require this meeting to happen in the country of incorporation. This means you may be operating full steam in Toronto while your legal setup is in Hong Kong, so then good luck on those trips. 
Eliminating human errors
For the sake of argument, let's say all agents today would operate in the modern world. 
Even in this case, founders would find themselves having to prepare folders and folders of files to be submitted online at least once a year. Not to mention the constant cognitive cost of having to be on top of things at all relevant times. You'd be required to pay for your government fees once a year, and if your agent forgets to remind you of this, resulting in your documents not being submitted in time, it is your company that will be fined. Your responsibility, your liability. 
We wish this was rare, but it really isn't. Human errors, miscommunication and simple manual mistakes. Have a chat around your entrepreneurial circles and get a feeling of what's considered common in that space. "The agent is everything" is what we hear, and we understand why. 
Virtual governing systems
With this, we never really wanted to enter the industry to join the debate. Smart Companies are virtual governing systems that self-manage themselves. They literally run your mandatory corporate governance on their own. To show a more concrete example, you get automated notifications whenever there's something that requires your attention regarding your company governance. 
"Code doesn't make mistakes" as our founder repeats in his mantra. Code doesn't get tired, won't require extra pay for extra hours and will happily keep doing what it's been programmed to do to ensure your company won't miss any deadlines. 
As everything can be executed digitally with immediate legal validity, you can say goodbye to traditional methods of paper-signing, ink-documents, printing and mailing documents. Even traveling to specific locations just to confirm a corporate action. Fancy placing a vote on your company 3am in the morning? Fine by us, the code, the law, and the government. 
With the Smart Company as your virtual assistant and our customer service always available to you, our model was built to make your life that much easier. 
Figure out the questions that matter to you the most 
So, that all said, in the end of the day, it's all about choosing your own battle. Identify the most important priorities for your business today and work your way up to all things corporate governance. 
We'll guarantee you that 'company formation' hardly hits #1 in any founder's priority list – therefore it shouldn't use up the time and money it consumes either. 
With the Smart Company model, incorporation is only step one. Just to get you started. It's everything that happens after that will truly matter. 
For each company that goes through us, we give you access to a dedicated dashboard. 
So what can you do with this dashboard?  
Let's bring in a few examples: 
Public view of your company and private company profile only accessible to you and your company directors 

Management system of company finances  

Buy, sell, trade and transfer shares internally with your shareholders 

Automate tracking of in/out transactions to your cryptocurrency wallet and automated conversion to fiat currency on hourly basis 

Management of company treasury

Board and shareholders meeting and voting 

Automated document generation for all transactions for immediate legal validation

Upload of documents automated for all transactions for immediate legal validation

Storage of generated and uploaded documents on the blockchain in secure, immutable ways

Communication channel for all shareholders 

As founders ourselves, we're more than aware that between company governance and making your business work, there's a wide gap of challenges big and small. 
As our mission is to make company management as streamlined as possible, we aim at helping our clients save time and money. We are busy building an entire ecosystem for entrepreneurs, SMEs and investors to navigate more seamlessly. So that you, as a founder, can focus on what really matters. 
We are team Korporatio.
To learn more about tokenizing companies, drop us a hello at future@korporatio.com
PS. We love feedback! Give us your yay's and no's. We promise to come back with real action.